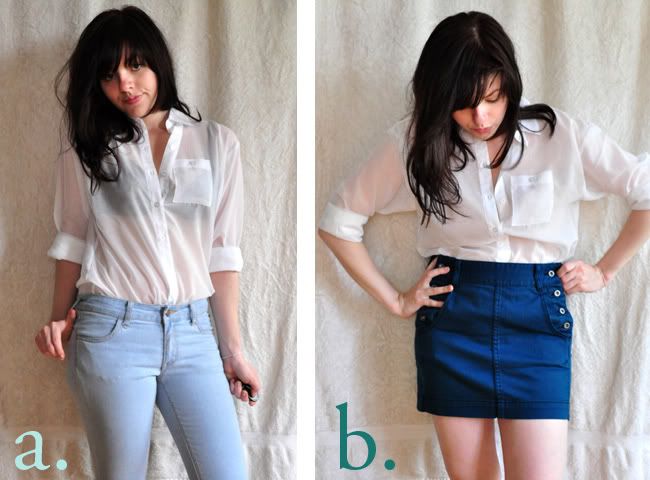 I'm having a slight superficial dilemma with choosing an outfit to wear for my travels to the Dominican Republic. In the past I would aim for comfort all the way, but ever since I've been travelling on buddy passes I have been told over and again that I need to dress nicely. There are multiple reasons for this: when one travels with a buddy pass they are representing the airline, and the second (more important) factor is that if one travelling on this pass is neatly attired they are more likely to be bumped to first class, if there are seats available.
So I could definitely use some opinions! In photos a. and b. I am wearing a really light sheer-ish white blouse which I bought specifically for this trip. It's very baggy and comfy, though I am afraid that the sheer factor may make it inappropriate. In b. I am wearing my nude bra with it, so it's a little less scandalous.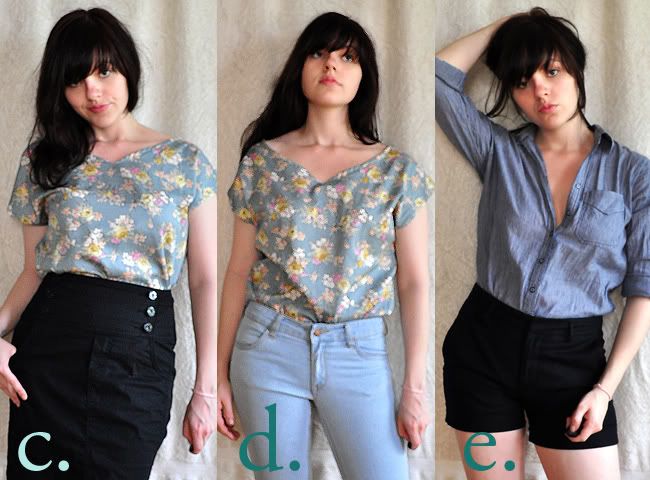 Haha, my hip is thrusting out in the same direction in all these. In photos c. and d. you may notice I am wearing the shirt I recently made. It's definitely elegant enough to wear for my pass, but I'm afraid of how well it'll hold up with a heavy back pack strapped around the shoulders. Also, I so direly wish to wear those pale skinny jeans. They are comfort incarnate and make my butt look nice. But I'm not sure, are they too informal? And I may die in them when I reach my destination, though I KNOW that in the airports and up in the air I'll be cold in a skirt. And finally, e. shows something very different. Shorts are definitely more comfortable than skirts to travel in, but the cold factor will still be present. I could also wear the shorts with the white blouse.
This is the silliest and most superficial entry ever, but any suggestions or preferences would be appreciated. I still have so much left to do before even getting to the airport that I don't want to have to worry about this too much. I'm leaving my home at around 3am Wednesday morning (so it'll feel more like late Tuesday night). That leaves about 23 hours for any input you may have!