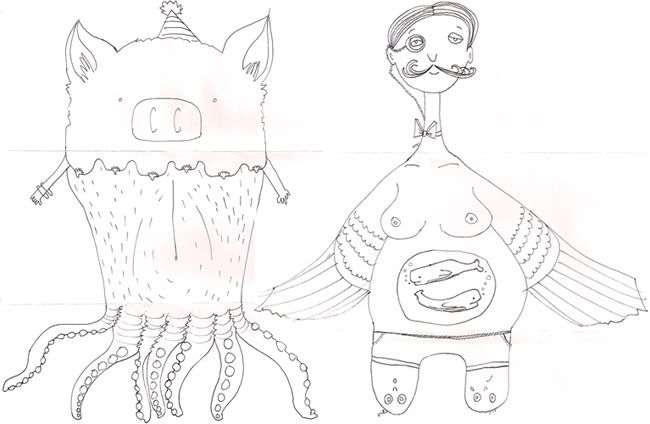 I am finally back from my whirlwind of a trip! After allowing myself a couple of days to bask in being back home, unpacking, and fully recovering from a lingering cold that seized me during my time in NYC, I have decided it's time to begin the daunting task of going through all my photos and videos and editing them. I've arbitrarily decided to do this in reverse order. I won't be posting anything substantial from my trip for a few days, though, as I have literally hundreds of images to go through.
On my last night in Manhattan my cousin
Gaby
and I made these two exquisite 'creatures', as we don't like to think of them as being corpses, heh. I was shocked by how well our drawing styles matched up, and how they both look like they could have been drawn by the same person. I suppose it also helped that we used the same small pen, too. I really enjoy how they turned out, and we talked about the potential of doing larger exquisite creatures in the future, possibly on canvas. I hope that one day that'll be possible!
Also, I just wanted to put out a big thank you to all the generous advice and opinions on my previous entry about what to wear. In the end I didn't end up wearing any of those exact combinations, but instead took snippets of the advice here and there. I had to dress for travelling on planes three separate times, too, and I found myself gradually growing more and more casual, especially since the last plane was so tiny there wasn't even a first class.